Jennifer is a licensed Property Manager/REALTOR, licensed in both Virginia and North Carolina. Born in Richmond, Virginia, she currently lives in North Carolina but has also lived in Florida and Pennsylvania. She was a licensed REALTOR in Pennsylvania and worked in the real estate industry there for many years. Jennifer has held her e-PRO certification from the National Association of REALTORS since 2004. She is also a member of the NC Property Manager Division.
Jennifer loves to learn and holds a Paralegal degree, Webmaster Certification, and a Business Administration degree. In addition to her time in real estate, she was a Chief Operating Officer of a software company, working with the company for nearly 10 years.
Jennifer enjoys helping property owners who wish to maximize their time by managing their properties and helping renters find their perfect rental home.
In her spare time, Jennifer enjoys crafting and spending time with her two dogs and her husband who is retired from the US Army after over 20 years of service and now works for the North Carolina prison system. She also enjoys many outdoor activities and thrill rides at amusement parks. She especially loves beaches and lakes and sunshine!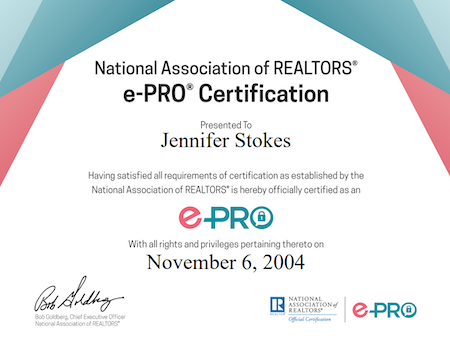 Member: National Association of REALTORS, North Carolina Association of REALTORS, Virginia Association of REALTORS, Roanoke Valley Lake Gaston Board of REALTORS, and Southside Virginia Association of REALTORS.